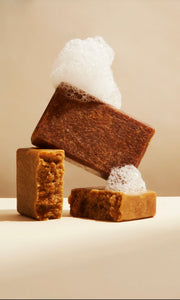 OSE GIDI SOAP
2.990 kr

2.990 kr
Tax included.
Shipping
calculated at checkout.
---
---
100% Natural and organic ingredients.

Ose Gidi is a luxurious handmade black soap with exfoliating and deep cleansing properties. Skin feels clean and renewed without feeling stripped. Our Vegan formulation of organic Shea butter, Coconut and Olive oil to form a superior moisturising base rich in vitamins A and E. The antioxidant properties of Moringa powder revitalise skin, improving appearance and radiance, whilst the lactic acid in Blackstrap molasses acts as a powerful natural acne treatment.

Fragranced naturally with Bergamot, Benzoin and Palmarosa essential oils, Ose Gidi is a true skin treat.
Weight: 120g

Use:
Suitable for daily use on body, twice weekly as a facial exfoliant.


Benefits:
The antioxidants in Moringa makes skin look revitalised, improving the appearance and radiance of skin. It has skin healthy nutrients like vitamin A, which helps build collagen in the skin, vitamin C to help reduce fine lines and wrinkles, and the healing and anti-inflammatory benefits of vitamin E.

Moringa Leaf powder contains ounce per ounce:
3 times the iron found in spinach
4 times the Vitamin A found in carrots
4 times the calcium found in milk

The nourishing and skin softening nutrients of Blackstrap molasses, high in vitamin B6, magnesium, potassium, and iron.

Palmarosa oil is Antiseptic, antiviral, hydrating, whilst Rose soothes irritated skin.
Ingredients: Sodium Shea Butterate, Sodium Cocoate, Sodium Olivate, Aqua, Glycerin, Molasses Extract, Cymbopogon martini Oil, Citrus aurantium bergamia Fruit Oil, Styrax benzoin, Moringa Oleifera Leaf Benzyl Alcohol*, Benzyl Benzoate*, Geraniol*, Limonelle*, Linalool*
* Naturally occurring in essential oils